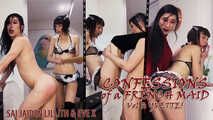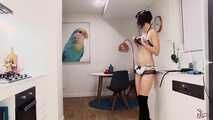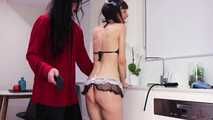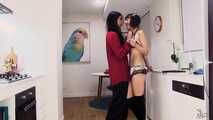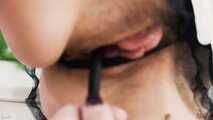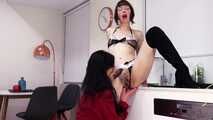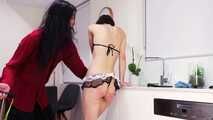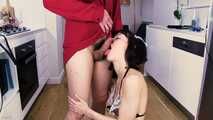 Confessions of a French Maid Vol 1: Yvette! - w/Eve X
Oui Oui Monseiur!
It's Yvette's first day on the job alone at the Master's house...
In the midst of cleaning she gets VERY distracted by some of the toys left out on the bench. However Master returns home unexpectedly and catches her perusing his collection, and proceeds to give her a proper demonstration of how these toys are used... in some unusual ways.
Yvette is curious and terrified at first however it's not long before she's squealing in delight and moaning as Master uses the paddle on her petite derriere, and the rubber whip for both external and internal applications.
She's left quite a mess both in the kitchen and inside her panties, and Master takes the opportunity to taste her delicious pussy, before ordering her onto her knees. Since Yvette enjoys touching the Master's things so much, she's going to get up close and personal with a very intimate object...
Yvette demonstrates her flexibility in her employment as she jumps up on the bench, splaying her delightfully long and slender legs on the bench and around the Master's neck while they slide deep inside her...
As she gets more excited, she forgets her assigned place in the house hold and pushes the Master onto the bench, riding his cock with one leg thrown over his shoulder. Then it occurs to her that though she may not be familiar with these fancy toys, she DOES know kitchenware... Bending the Master over on the bench, she begins spanking their firm & delicious buttocks with aplomb, before wielding a hefty chopping board as a paddle.
Delighted at the exotic nature of Yvette's skills, the Master and Yvette end up spanking each other thoroughly in the middle of the kitchen... overcome with passion, the Master sweeps her up off her feet and fucks her thoroughly with her legs wrapped around him and his arms holding her impaled on his cock. Finally, the Master cums hard and thoroughly, leaving a mess deep inside Yvette...
At the end, Yvette is invited to be the Master's live in maid... Who knows what mischief this pair will get up to in the future?
___________________________________________
Starring Eve X & Sai Jaiden Lillith
Produced by Sai Jaiden Lillith
www.theevex.com | www.fieldsoflillith.com
___________________________________________
Mehr anzeigen