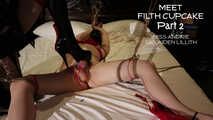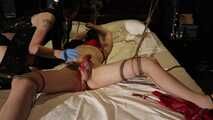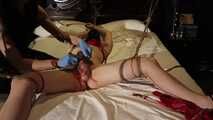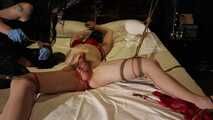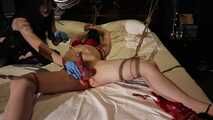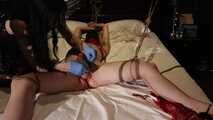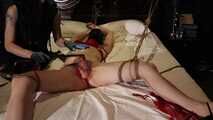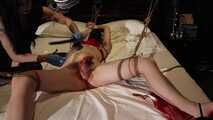 Meet Filth Cupcake 2 w/Ms Andrie
The depravity continues as Filth Cupcake is once again tied down to the bed by Mistress Lillith - and this time she's intent on punishing Cupcake's beautiful cock and balls.
Ensuring that no part of her is left unbound, her throbbing member is tightly tied as the sensitivity grows and grows... The stroking and gentle tugging lulls Cupcake into a false sense of security as Lillith starts slapping and caning poor Cupcake's erect cock. Tiny pegs on her scrotum add the extra edge, a constant hum in the symphony of sensation. Her cries of pain and pleasure meld into one, as the sadistic Lillith smiles and laughs gently, grinding a shiny boot into her cock, trampling and kicking at poor helpless Filth Cupcake. A leather strap of perfect proportions for genital punishment pushes Cupcake to the limits, punctuated by the sharp sounds and shrieks as Lillith canes the tip of her poor sensitive cock...
Starring Miss Andrie as Filth Cupcake, and Sai Jaiden Lillith as Mistress Lillith.
___________________________________________
Starring Ms Andrie as Filth Cupcake & Sai Jaiden Lillith
Produced by Sai Jaiden Lillith
___________________________________________
Meet Filth Cupcake 1 w/Ms Andrie - AVAILABLE NOW!
Mehr anzeigen