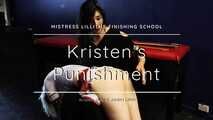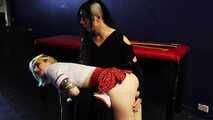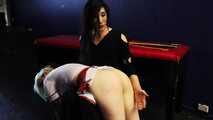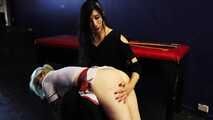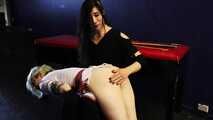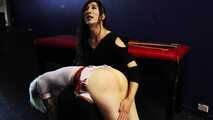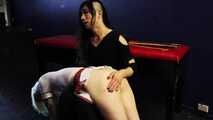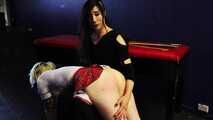 Mistress Lillith's Finishing School - Kristen's Punishment - w/Kristen Jade
Lillith's Finishing School for Extremely Naughty Girls and Boys prides itself on a strict education and an even stricter disciplinary program.
This is just one of their stories...
Kristen Jade is dragged kicking and screaming into Mistress Lillith's office, and immediately thrown over a knee. Lillith delivers some warm up spanks as Kristen struggles and squeals, denying their wrong doings. However, soon Lillith's spankings draw out the truth - that Kristen's been stealing and sniffing underwear in the girl's changerooms.
Through their protests and kicking, Lillith delivers a stern lecture punctuated by a firm barrage of spankings that begin to turn poor little Kristen's cute bum a bright shade of pink! Lillith jams a pair of panties into Kristen's mouth to silence their protests, as well as for the sake of poetic justice.
To make sure that the lesson sinks in, Lillith leans Kristen over the table and brings out more tools of learning, her crop and cane. Kristen is treated to a growing number of strokes, while being made to recite "I will not sniff other girls' panties without their consent." Once the lesson is made clear, the panties are stuffed back into their mouth and they're sent back to class, perhaps a little wiser but definitely a lot sorer.
*Discounted due to focusing issues*
___________________________________________
Starring Kristen Jade & Sai Jaiden Lillith
Produced by Sai Jaiden Lillith
www.kristenjadeaus.com | www.fieldsoflillith.com
___________________________________________
Mehr anzeigen