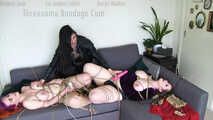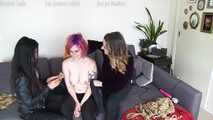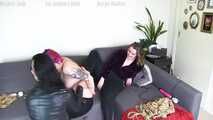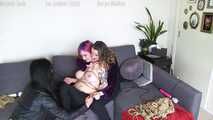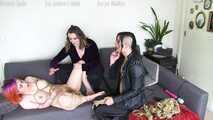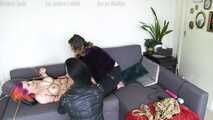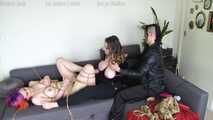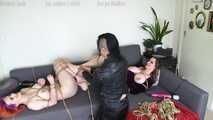 Threesome Bondage Cum - w/Kristen Jade & Aeryn Walker
What happens when you put two brats and sadistic rope top in the same room? This pretty much....
Aeryn Walker and Kristen Jade are at the mercy of Sai Jaiden Lillith... or are they? Sai restrains Kristen first amidst much struggle and head kicking, then turns their attention to Aeryn. Once they're properly restrained and tied to each other, Sai attaches the vibrators to them and watches the fun ensue...
Manical gremlin Aeryn uses her feet to shriek inducing effect, while Kristen gets their own back by pulling on the rope attached to Aeryn's vibrator. Sai steps in with a Zap stick to resolve conflict, which ends up with Aeryn being shocked multiple times to put them in their place. With the two subs relatively subdued, the writhing begins in earnest as Sai, the vibrators and ropes do their work... by this time the shrieks have turned to moans and gasping as Aeryn and Kristen grind themselves into orgasmic bliss.
___________________________________________
Starring Aeryn Walker, Kristen Jade & Sai Jaiden Lillith
Produced by Aeryn Walker
www.naughtynerdy.com | www.fieldsoflillith.com | www.kristenjadeaus.com
___________________________________________
Mehr anzeigen