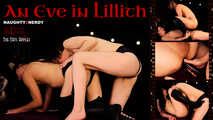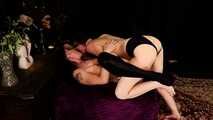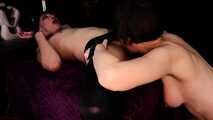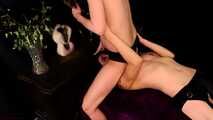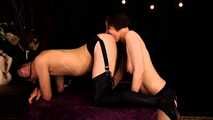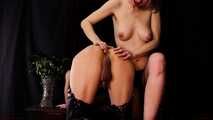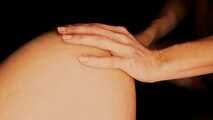 An Eve In Lillith w/EveX
Hungry and Penetrated...
I love having Eve X inside me, and this is the first time we've captured it on film.
A slow, sensual, tender and intimate exploration of my insides by a deliciously pregnant Eve X. As I'm now always inside them, so they will be inside me...
They run their hands and lips down my body and light me up with arousal. They ride my face with their pussy covering me in their scent, before sliding their black rubber cock into my mouth as their lips slide over mine...
They take their time to rim me, sending sparks of delicious sensation running up my spine... they slide their fingers into me to open me up and play with my prostate with their dexterous and familiar fingers.
I straddle them and slowly fuck myself with their cock, until they grab my hips and start fucking me deeply and firmly, making me moan and gasp with pleasure. They fuck me in doggy, and finally in missionary where they rail me until I have a body shattering anal orgasm.
Yes please, more...
______________________________________
Starring
Sai Jaiden Lillith
Eve X
Produced by
NaughtyNerdy / Sai Jaiden Lillith / Eve X
Videography
NaughtyNerdy
Post Production
Sai Jaiden Lillith
______________________________________
Featuring
69 / sensual body worship / cock sucking / pussy licking / prostate massage / rimming / pegging / cowgirl / doggy style / missionary / AMAB anal orgasm / Pregnant
Show more