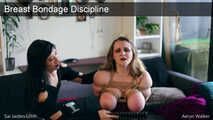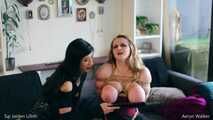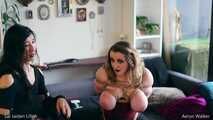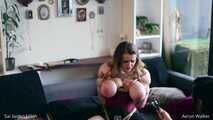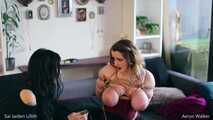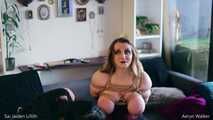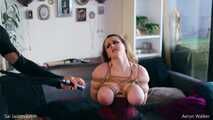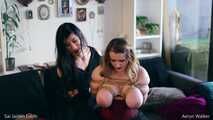 Breast Bondage Discipline w/Aeryn Walker
A fun and irreverent breast bondage / discipline session
Unruly student Aeryn Walker meets Headmistress Lillith who has come to her home for a chat about her disappointing performance in class.
Miss Walker is bound by Lillith's web of ropes for her own safety, with her ample cleavage tied up tight and made oh so very sensitive by the tension of jute ropes. Aeryn blisses out in the sweet embrace of Shibari, but she is broken out of her reverie by Headmistress Lillith reminding her of the reasons She came to visit.
While being chastised for her poor showing in the classroom her breasts are attacked with a crop, a ruler, a converted sushi mat. She's hooked up to electrified clamps which send pulses of painful jolts to her poor helpless breasts, while Lillith laughs in amusement at her predicament. The addition of a powerful vibrator adds the waves of pleasure to the onslaught of pain, as Lillith brings her trademark methods of discipline, reward and punishment to the scene. A painful leather flogger is brought out which leaves instant red, raw marks on Aeryn's breasts, as she is made to count them and thank Mistress for her discipline.
Finally, she is given an orgasm after she receives her final set of punishment with a leather studded strap, and she convulses with pleasure and gratitude as her delicious agony ends - and the lesson is concluded... for now.
___________________________________________
Starring Aeryn Walker & Sai Jaiden Lillith
Produced by Sai Jaiden Lillith & Aeryn Walker
www.naughtynerdy.com | www.fieldsoflillith.com
___________________________________________
Show more